The 50th Anniversary of Twinning
The 25th Anniversary of Twinning
A commemorative stamp was commissioned by the Trinidad & Tobago Postal Service on the 25th Anniversary of Twinning. Depicted on the $2.50 stamp is the Port-of-Spain Lighthouse. This Lighthouse is being maintained and preserved by the Port-of-Spain City Corporation.
In May of 1842 completion of the Lighthouse was announced, in the Chambers of the Town Council. It was built at a cost of $4,600.00. The Lighthouse is today a major landmark in the City of Port-of-Spain.
In 1968, Port-of-Spain (Trinidad) and St. Catharines (Canada) agreed to become twin cities. Accordingly each community in turn, Port-of-Spain in August, and St. Catharines in October of that year, issued a public Declaration of Twinning in their respective communities.
As part of the ceremonies there was public declaration of Mundialization whereby the City of St. Catharines and the City of Port-of-Spain solemnly pledged to observe and to uphold the Universal Declaration of Human Rights.
In 1993 Port-of-Spain and St. Catharines celebrated the 25th Anniversary of the Thinning of these two cities.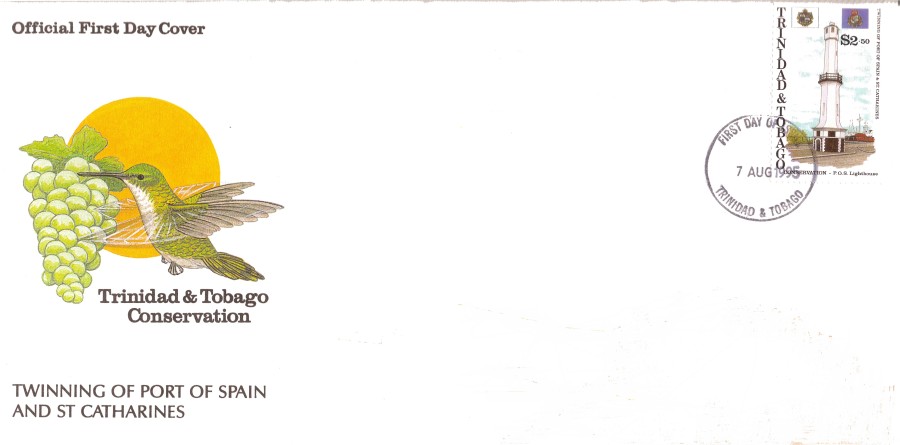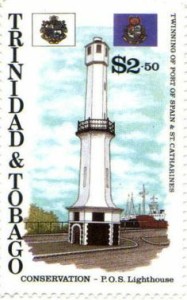 | | |
| --- | --- |
| Designer | Mr. Derek Miller |
| Printer | Walsall Security Printers LTD. |
| Process | Lithography |
| Stamp Size | 27.94 x 44.5 MM |
| Pane Format | 50 (2 X 25) |
| Perforation | 14.4 Per 2 CM |
| Paper | CA Watermarked |
The 40th Anniversary of Twinning
Part of the 40th Anniversary Ceremonies were held in Port of Spain, Trinidad, in January 2008. Mayor Brian McMullan made a visit to Port of Spain for the celebration, and met with Mayor Murchison Brown and Prime Minister of Trinidad, The Honourable Patrick Manning. The photo to the right shows St. Catharines Mayor McMullan signing the guestbook as Mayor Murchison Brown looks on.
The 40th Anniversary Commemorative book was produced and published by Helen and Philip Atteck. The presentation was made by St. Catharines Twinning Association President, Dawn Jacklin, to Port of Spain Mayor Murchison Brown on the occasion of a Civic Reception held at the Port of Spain Town Hall on January 21, 2008. 
St. Catharines City Hall houses our copy of the history book. It is outside the mayor's office on the third floor. Stop by sometime and see the collection of articles and pictures!