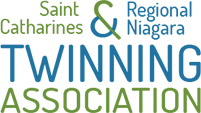 The connection between Brock University and the two Twinning Associations has been outstanding over many years. The first delegation from St. Catharines to go to Port of Spain was headed by St. Catharines's Mayor MacKenzie A. Chown and included a representative from Brock University, Dr. John Jackson. That was to witness the official ceremony declaring the city of Port of Spain to be Mundialized and Twinned with the City of St. Catharines on August 30, 1968.
The first President of the St. Catharines Twinning Association was Dr. Mayer de Berncastle, a Professor of philosophy at Brock University. On the occasion of the 25th Anniversary of the Twinning of the cities of St. Catharines and Port of Spain, Brock University awarded one full-tuition scholarship to a student from Trinidad.
By the 40th anniversary of the Twinning of these two cities, annual full-tuition scholarships were awarded by Brock University for a period of ten years for students from Trinidad. The Port of Spain Twinning Association has actively participated in the Brock University scholarship program by notifying the various high schools in Trinidad of the availability of the scholarship and in the vetting of the scholarship candidates. For several years, the St. Catharines and Regional Niagara Twinning Association has made grants to a bursary fund at Brock University for the benefit of any Trinidadian student in need. Each year the St. Catharines and Regional Niagara Twinning Association invites ALL the Trinidadian students attending Brock University to a luncheon on the first Saturday after school commences in September to allow these students to socialize with new arrivals, renew old friendships, and get to know the Twinning folks who advise that they are the "Aunties and Uncles" for the students while they are in St. Catharines. Any parents who are still in St. Catharines are welcome at this luncheon as well.
St. Catharines & Regional Niagara Twinning Association believe in enabling students to achieve their dreams through university education and celebrate their accomplishments in partnership with Brock University – where students can become a better version of themselves.