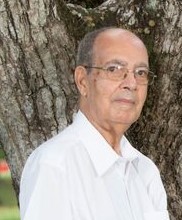 It is with deepest sadness that we announce the passing of Lloyd Farnum. Lloyd passed peacefully at home in Trinidad on October 5th 2020.
He was 93 years old.
He was President Emeritus of the Port of Spain St Catharines Twinning Association
He leaves to mourn his loving wife Grace and children Roger (Debra), Denise, Ian, David, Paul (Angelique), 7 grandchildren, 2 great grandchildren and his sister Lynne Wilson.
His Funeral will take place at St Patrick's RC church
Newtown, Port of Spain Trinidad on Monday October 12th 2020 at 9.30 a.m.
Lloyd was the epitome of a true gentleman. While the light of life that illuminated this kind and gracious man has been extinguished, he will remain with us as a lifelong friend and compatriot. He was gentle yet strong, soft spoken yet confident and someone you could have depended on for counsel and guidance. He was the very essence of compassion and consideration and held a steadfast commitment to family and duty.
Lloyd was a member of the Port-of-Spain St Catharines Twinning Association since 1971 and president for 10 years.
We thank you for the many varied ways in which you have enriched and brightened our lives and, although, God blessed you a with long and happy life, we would selfishly wish for more time with you. But now that all is said and done, we are very grateful to have had you in our lives and to have been a part of your distinguished legacy.
Although we are all united in our desire to pay our respects, we know that with the world in turmoil we can only do so via the electronic media. In this regard we have a virtual condolence page.
Leave a Condolence Message