From Tar Hams to Salt Butter... POS Grocery Store Takes Shoppers Back to Old-time Days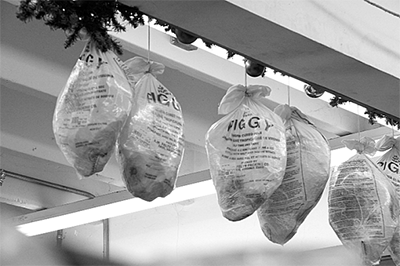 As Read on the Virtual Museum of Trinidad and Tobago
CREDIT TO AUTHOR : CHARLES KONG SOO
Sing Chong Supermarket on Charlotte Street, Port-of-Spain, is a modern supermarket, but shoppers can feel as if they stepped through a time warp to the old-time days of Chinese shopkeepers and parlours on the village corner.In one section of the supermarket you can find loose salt butter, table margarine, lard and peanut butter packed neatly in white wrapping paper just like in "Mr Chin's" shop from a bygone era.
The culinary treasure that attracts foodies and tantalises the taste buds of the golden generation alike, however, is the tar ham hanging from the ceiling.This is the same type of ham granny and grandpa used to boil in a biscuit tin over a wood fire or pitch-oil stove in the backyard and sometimes baked after in a coalpot tin oven or mud oven.
Anthony Low, the supermarket's owner, said since his father, Johnson Achong Low opened Sing Chong's in the 1940s they were importing premium tar hams or soak and boil hams as they were also called.He said, "Since I was 14 years old and working with my father, in those days we were bringing in Darling Downs ham from Australia and Swift's ham from the US encased in tar."Tar and Darling Downs ham got expensive, and when Government banned ham importations in the '70s it became too prohibitive.
"When the market opened up in the '80s I began bringing in this brand, 'Piggy' ham every year."Low's son, Christopher, said he knew of the ham hanging from the supermarket's ceiling since he was small.He said when the distributor was no longer importing salt hams, the supermarket decided to source it for itself.Christopher said there were not many other supermarkets selling the traditional hams.
Low said not everyone had a fridge in the early days, that the ham didn't need refrigeration, and it could last for three years with just some loss in weight.He said even when it was cooked, the ham could be left outside covered and it wouldn't spoil.Low said people started using big pots to cook their hams in when they became available, and the unique smell given off by the ham cooking in the yard wafting in the open air could be detected by neighbours a great distance away.
He said he kept at least 12 hams for himself and boils one every month to share with his family, friends and employees, and it goes very fast.Low said a customer bought a soak and boil ham and returned it on Christmas eve 2012 "burnt like charcoal," asking him if he knew how to cook it.The man said his mother had died and she cooked the ham for his family every year when she was alive.He had never learned how to prepare the ham, and he had put it in the oven to bake.
Low gave the man the cooking instructions: soak the ham for three to four days, add lime or sugar, discard the water every day, boil for at least two hours until done, bake after if so desired, adding cloves and pine for a different flavour.He gave the man a replacement ham. The man returned to him after Boxing Day to say thanks as it came out "perfectly" like his mother's.Low's plan is to ask the manufacturers to place cooking instructions with the hams in the next shipment.
Historian Angelo Bissessarsingh said tar hams were made locally in the South-West peninsula from the '30s up to the early '50s

International Soca Monarch 2020- Groovy Category
International Soca Monarch 2020- Power Category
Carnival King & Queen 2020
Wade Madray with his costume,
Pacific Tsunami
Peola Marchan with her costume,
D Jewel Chandelier