Twinning really started in 1965 when Mr. Philip Atteck, a Trinidadian, while on a tourist promotional tour for Air Canada, was told of a Canadian radio station in a city called St. Catharines. This station, which operated on a frequency of 610 AM, was also known as CKTB Radio. Mr. Larry Heywood, (the Voice of One) former manager of 610 AM radio in Port of Spain then living in Toronto, offered to drive Philip Atteck the 70 miles south of Toronto (and only a few minutes from Niagara Falls) to meet the folks at CKTB Radio in St. Catharines. It was soon evident that there was a group of people at CKTB, from the managing director right down to the staff, who were interested and friendly, and very keen to learn about Trinidad.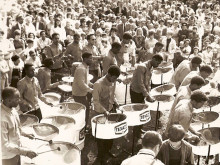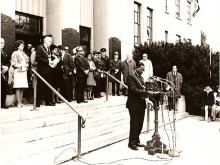 As a result of the meeting, Bill Burgoyne, the owner of CKTB radio and the St. Catharines Standard newspaper, invited Philip Atteck to return to St. Catharines two weeks later at which time a luncheon was arranged to enable him to address prominent members of the community. Present at this meeting were the Mayor, two city councilors, representatives of the press, radio station, police and fire departments, Chamber of Commerce, several service clubs, and many local businesses.
Philip Atteck's informative talk about Trinidad & Tobago was very well received. It created such interest that he was invited to tour the city and its environment. It soon became apparent to Philip Atteck that there were many similarities between the two cities of St. Catharines and Port of Spain, especially the sincere warmth and friendliness of the people. Both cities had a population of about 120,000, both had a university, both were surrounded by agriculture, both had radio stations operating on the same frequency, both had active chapters from the same service clubs, both were port cities and had many other similarities. The idea to twin the two cities was born.
Play the audio clip below to hear part of the original 1968 Twinning Ceremonies from Port of Spain.
Mayoral Visits
These following seven St. Catharines Mayors visited Trinidad:
Mayor Mackenzie A. Chown

Mayor Joe Reid

Mayor Roy Adams

Mayor Joe McCaffery

Mayor Tim Rigby

Mayor Brian McMullan

Mayor Walter Sendzik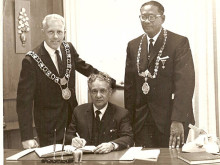 Biography of Mr. Philip Atteck
In 1965, when he was the Sales Manager for Radio Guardian at 17 Abercromby Street in Port of Spain, Philip Atteck was asked by the Regional Sales Manager for Air Canada, Dr. Richard Hilker, to tour Canada on a voluntary basis to promote tourism to the Caribbean. Philip accepted this challenge and took his vacation time to do this. He travelled from Montreal to Vancouver, and all major cities in between, on a series of speaking engagements to Rotarians, Air Canada staff, the media, travel agents, and the A.S.T.A. convention in Vancouver. A donation of cases of rum at each Canadian city by Mr. J. B. Fernandes of Fernandes Distilleries made a good combination with Philip's magic along with an excellent travelogue film of Trinidad supplied by Esso Standard Oil of Port of Spain. The result of this trip was a marked upsurge of tourism from Canada, including from Western Canada.
During this tour, Philip Atteck paid a visit to St. Catharines, Ontario, a city of about 120,000 people located in the Niagara peninsula. He was welcomed by the leaders of this community, and the idea was born to twin the cities of St. Catharines and Port of Spain.
Through Philip's efforts, Twinning Committees were established and the concept of Twinning was embraced by the respective City Councils. The official twinning ceremonies were held in Port of Spain on August 30th, 1968 and in St. Catharines on October 4th, 1968. These two cities then declared themselves "mundialized," embracing the Charter of Human Rights of the United Nations, and "twinned" for the good of their respective communities. The ceremonies that accompanied these events were orchestrated by Philip. St. Catharines followed the example set by Port of Spain.
Over the ensuing years, great benefits have evolved from this people-to-people exercise. Several Trinidadian children were given free surgical treatment for bone disorders at the Sick Children's Hospital in Toronto. Their parents were hosted by families in St. Catharines. Following this, an operating theatre was outfitted at the Princess Elizabeth Home for Handicapped Children in Port of Spain by donations from the Rotary Club of St. Catharines.
Through the Port of Spain Twinning Association, Philip Atteck supplied passage to Canada for Dr. Robertson who was invited to "scrub up" with the orthopaedic doctors at the famous Sick Children's Hospital in Toronto. Several teams of Canadian doctors later came to Port of Spain to work with Dr. Robertson. They taught him avante guarde techniques for surgical cases while learning to deal with children afflicted with conditions never seen in Canada. Gifts of an incubator, and other medical supplies have been sent to the Port of Spain General Hospital on numerous occasions. Boxes of flashlights and electric kettles were sent from St. Catharines to the Trinidad Police Force during the State of Emergency in 1970.
Over the years, thousands of Trinidadians have travelled to St. Catharines and Canadians to Trinidad to experience the home hospitality of their "twins." In addition, Philip, through the Port of Spain Twinning Association, supplied free opportunities for many citizens of Port of Spain to travel to St. Catharines to meet their counterparts to exchange ideas and learn other techniques that applied to their vocations. The list includes boy scouts, girl guides, nurses, postmen, firemen, correctional institution employees, customs and immigration officers, city employees, steelbandsmen, etc.
Brock University, located in St. Catharines, conducted three field trips to Trinidad and Tobago for their science students. The Twinning Association in Port of Spain was instrumental is assisting to make these trips successful at minimal cost to the students.
In 1993, Philip requested Brock University to offer a full-tuition scholarship to a deserving student from Trinidad to commemorate the 25th anniversary of twinning. The recipient, Miss Toni M. Isidore Smart, was chosen by a committee made up of representatives from the University of the West Indies, the Port of Spain Twinning Association, and a Trinidadian graduate of Brock University. Miss Smart successfully completed four years of study to attain an honours bachelor degree in accounting and business.
Trinidad issued a commemorative stamp in 1993 to mark twenty-five years of twinning between Port of Spain and St. Catharines.
Each year, since 1968, there has been an annual exchange of people between St. Catharines and Port of Spain to renew the twinning ties, forge new friendships, and create new opportunities for the citizens of both communities. Untold benefits have resulted from this. Philip never lost touch with the twinning exercise. He has been active in both communities, always seeking to enhance the lives of others. In a sense, he was an "ambassador at large" for his homeland.
In 2008, in recognition of the fortieth anniversary of the twinning, Brock University established an annual four-year, full-tuition Twinning Scholarship for a Trinidadian student to study in St. Catharines. The first recipient of the 40th anniversary Twinning Scholarship, Miss Stella-Marie Chong Sing, has now graduated with a B.A. (honours) degree. Two other Twinning scholarship recipients have graduated from Brock University. There are now four Trinidadian students attending Brock University on this annual Twinning Scholarship, one in each year of study.
A memorial to Philip Atteck is located in the International Building at Brock University where the Office of International Services bears his name.
After Philip passed away, Helen Atteck and son, Keith Atteck, travelled to Trinidad to participate in a memorial for Philip Atteck held by the Port of Spain City Council.
As part of the ceremony, Keith showed the City Fathers a brief biography of his father in a power point display. Mayor Murchison Brown then presented Helen Atteck with an impressive plaque which reads as follows: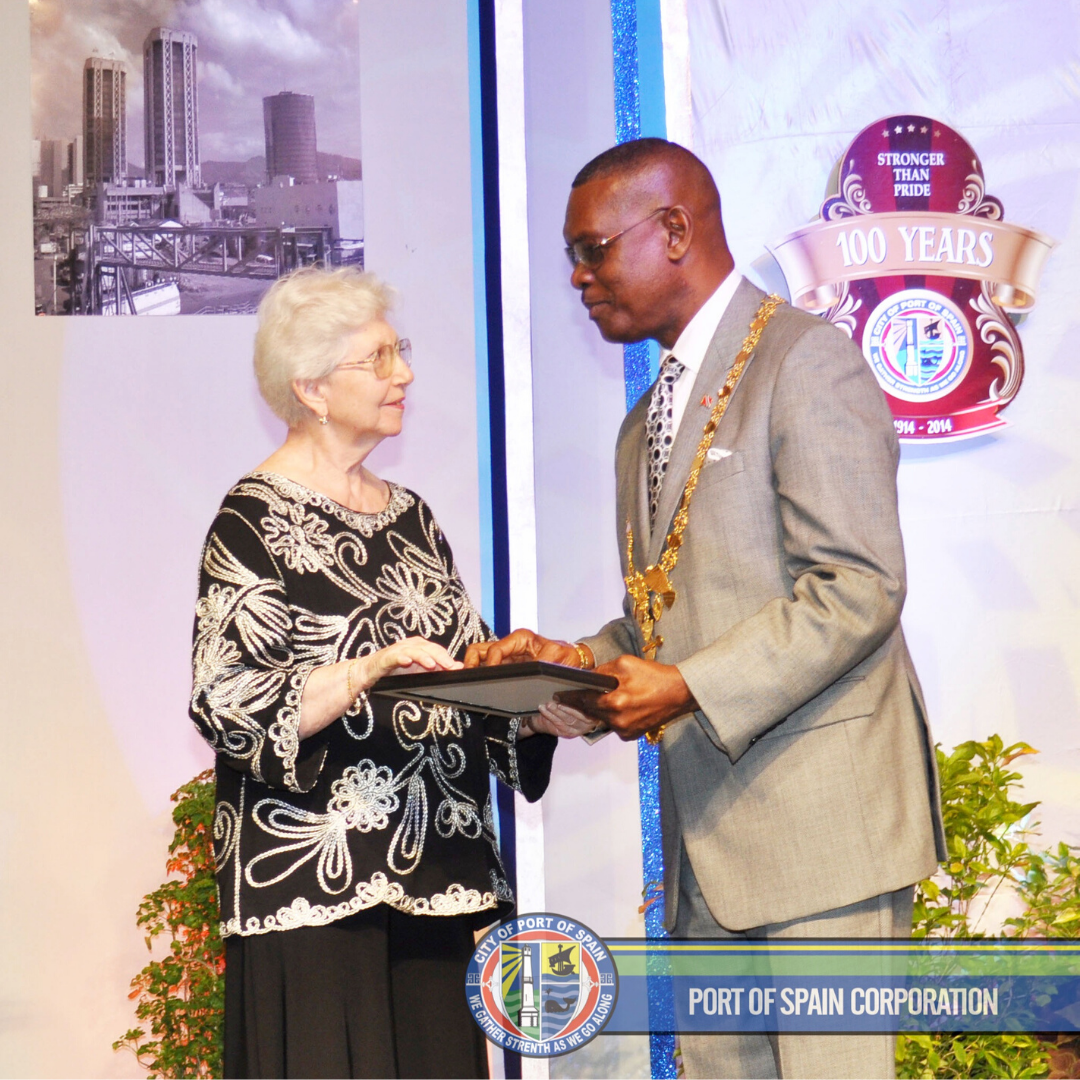 PORT OF SPAIN CORPORATION
Appreciation Award
Presented to
Philip Arthur Lionel Atteck
~~o0o~~
Pioneer in the Twinning of cities initiative
for your
lifelong commitment to the principles of the Twinning
Charter to foster understanding, mutual respect
and friendship between the inhabitants of
St. Catharines, Ontario, Canada and
Port of Spain, Trinidad